In October of 2021 we started to re-gather in our Kids Branch space. We were so excited to reopen our classrooms and welcome you and your kids back. Our procedures and schedule have had to change because of COVID hence the temporary name, Kids Branch Remixed, for our Sunday morning kids program.
​
Below we have outlined our current procedures that help us to provide a welcoming and safe environment for your children.
​
Frequently asked questions
Who is Kids Branch Remixed for?
---
Kids Branch Remixed is for children in JK to Grade 6.
---
What if my child is not in JK to Grade 6?
---
For children who are not old enough to be enrolled in Junior Kindergarten they will need to sit with you in the auditorium or you can sit with them in our Parent Lounge. In our Parent Lounge you can supervise your younger children while chatting with other parents or watch the service on the TV screen provided. For youth in grade 7 or older they can participate in the worship experience in the auditorium.
---
Do I need to Register?
---
Although walk-ins are always welcome we encourage all families to register. By pre-registering you reserve a spot for your child. Spaces are limited and if we reach capacity your child would need to sit with you in the auditorium. Please remember you need to register for each Sunday you plan on attending. Registration is available each Wednesday at 7 PM. To register go to WWW.TOB.CA.
---
What are the expectations for parents using the Parent Lounge?
---
As a parent using the Parent Lounge we ask that you supervise your own children while watching the service or interacting with other parents. Due to their age many of the children using this space will be unmasked. As a parent you can help to encourage your child to play with other children in a way that you feel most comfortable. If your child puts a toy in their mouth we ask you to place it in the dirty toy bin or sink so that it can be washed.
---
What other procedures have been implemented?
---
Masks and Hand Hygiene: All volunteers and children participating in Kids Branch Remixed are required to wear masks. Parents in the Parent Lounge are required to wear masks. Children playing in the Parent Lounge are encouraged to wear masks if possible. Hand sanitizer is avialable in each classroom for use. Sinks are available in the Parent Lounge to maintain hand hygiene. Classroom Set Up: Tables are spaced out in each room and only children from one family are seated together. While children are encouraged to talk with one another we encourage children to only use the materials and activities placed on their tables to limit points of contact.
Worship/Bible Lesson: In our worship room hula hoops are spaced out to indicate where children/sibling groups can sit. Music videos are played during our worship time and children are encouraged to listen to the words and do the actions. Singing out loud is being discouraged at this time.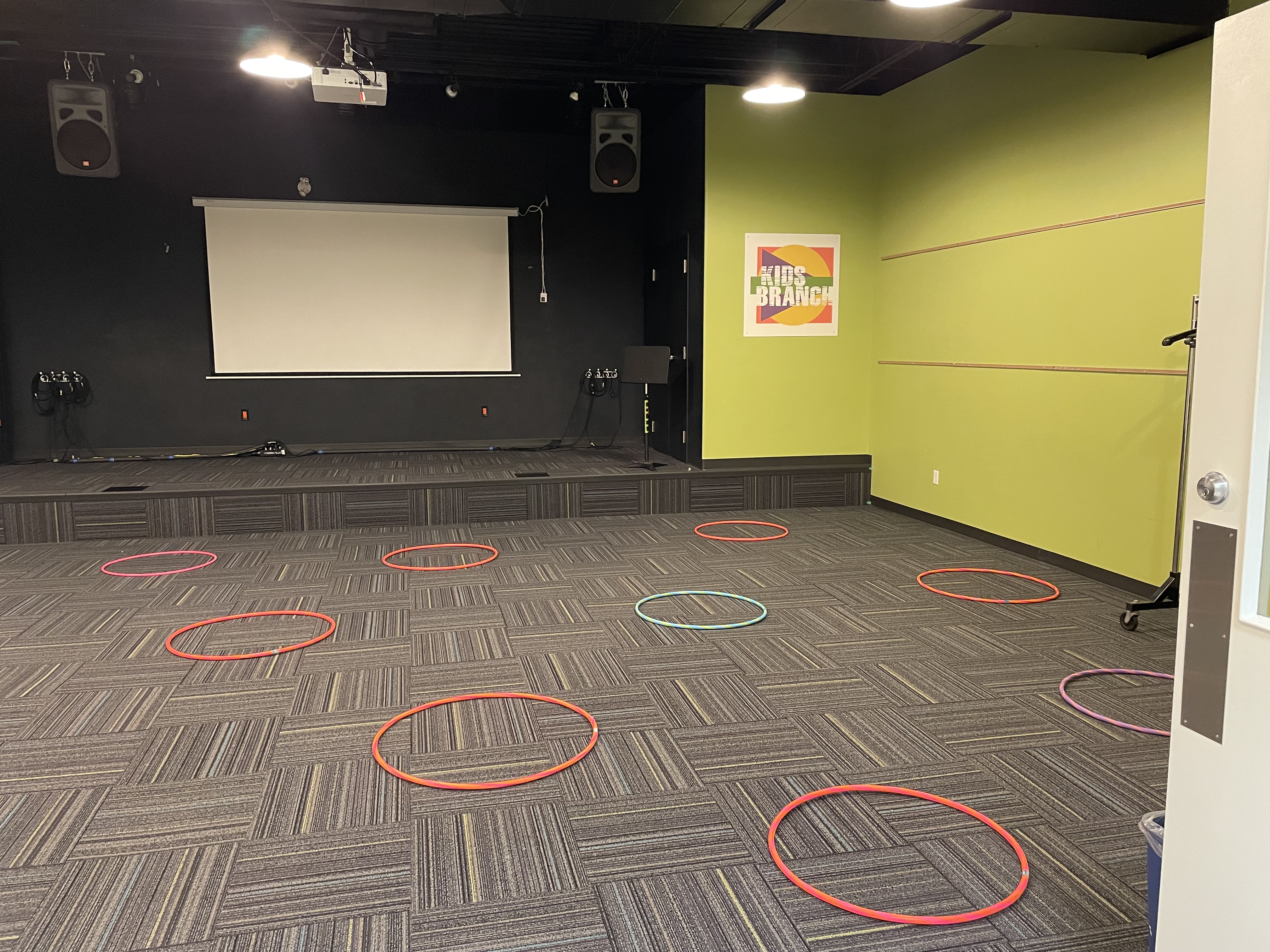 Cleaning: After the service all material baskets and toys are sprayed with disinfectant spray. All tables, chairs, door knobs and lightswitches are wiped down. Toys and activities used in our youngest classroom and parent lounge are stored for a two-week time period before being used again. All toys and materials are locked in our classroom cupboards and are only used during our Sunday morning program. In the Parent Lounge larger toys and furniture are wiped down or sprayed.
---
What will my kids be learning?
---
Head to our Kids Branch @ Home page to see what your kids have learned each Sunday. In the weekly outline you will also find some follow up suggestions that can be done at home during the week.
---
What should I expect when I arrive?
---
When you arrive at The Olive Branch Community Church please check in with our welcome team as a family. You will be asked for each person's name attending the service and if anyone is experiencing COVID symptoms. Once checked in you can bring your children JK to Grade 6 to the Kids Branch kiosk. They will be given a name tag and walked to their assigned classroom. At the end of the service you can return to the Kids Branch kiosk and your child will be brought to you. At this time only volunteers, staff members and children JK to Grade 6 are allowed in the Kids Branch area during Sunday morning. If you are registered for the Parent Lounge you can enter that space at any time once you have checked in with the welcome team.
---
---